You might assume that your smoker is good on its own and doesn't need any accessories to go with it – and you're not even entirely wrong about it.
However, the secret behind all expert grill masters is their choice and use of smoking accessories.
These items might not seem substantial to you just right now, but with their help, you can switch from a beginner chef to an expert in no time!
For you to learn all about it easily, we're here to tell you all about each and every accessory that Traeger includes.
Accessories to Use With Traeger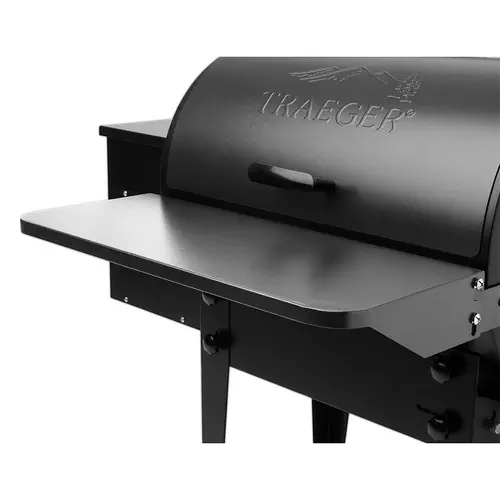 Trager Front Folding Shelf
To add extra space while preparing food in front of your grill!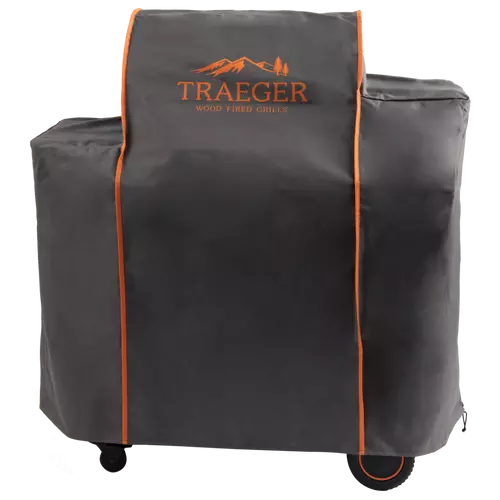 Traeger Grill Covers
These protects your smoker from anything, from rain to dust!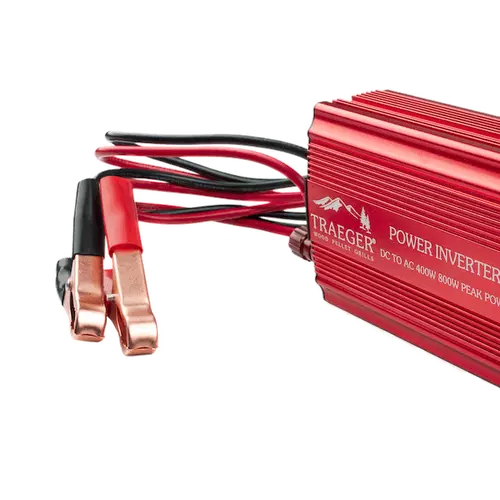 High Efficiency Power Inverter
This product turns your Traeger smoker to portable! 
Traeger accessories have been designed to help their users become smoking experts in no time.
Some of these accessories are essential for your smoking experience to be a good one, whereas the other products could be considered as optional.
Nonetheless, with these products to aid your smoking process, you no longer will have to worry about a poor grilling experience!
As it should go unsaid, a smoker is only as good as the quality of wood pellets it uses.

Traeger offers you one of the most premium wood pellets for your smoker's fuel source.

These pellets come in multiple flavors to enhance the taste of your meat according to your preference – hickory, cherry, pecan, apple, and our personal favorite, the signature blend.

What makes them great is that they're made of 100% natural hardwood. We personally like it because it they don't have artificial additives, or fillers, etc.
Also Read:
These traeger shelves are basically folding shelves that increase the space for a smoker.
We particularly use these folding shelves for putting cooked food readily on them.
Therefore, this is a very convenient way of increasing your smoker's size.
The folding shelves have been designed in accordance to each model's own specifications, so that they fit perfectly and take up just their designated space.
Liners for grills, also commonly known as drip tray liners, are placed in the grill in order to save you from any potential mess ups.
These liners collect any material that drips from the smoker, coming from your meat rubs, its juices, grease, etc.
We can tell you for sure, they made cleaning up smokers and grills for us pretty easy.
The traeger drip tray liners are made of aluminum and are supposed to be disposable. 
Hence, you can purchase them for your specific Traeger model and dispose of them after your use!
Not only has the brand come up with the perfect equipment to make your meat tender, juicy, and flavorful, but it has also introduced its own rubs for your specific meat treat!
Each rub gives your meat a different blend of flavor.
These rubs come for all sorts of food you could possibly grill – poultry and pork, chicken, beef, and even veggies.
They're so good that we've become their regular customers now!
Similarly, they also include several sauces, such as Sweet and Heat BBQ, Texas Spicy BBQ, Apricot BBQ, and 'Que BBQ sauce.
We personally recommend getting the Texas Spicy one as it is not too sweet and not too spicy for our liking!
For your particular model of Traeger, you will find a full length, perfectly sized grill cover to protect your smoker from any external damage.
With these heavy duty waterproof and UV resistant grill covers, you can easily elongate your smoker's lifespan.
Traeger BBQ Tools
These tools are supposed to make your grilling experience better and easier.
1. All Natural Grill Cleaner
Cleaning your grill after each smoking session is definitely the most dreaded part of the process.
However, with the all natural grill cleaner supplied by Traeger, you can make the cleaning process easy for yourself.
All you have to do is spray all the parts that need cleaning, let the residue set for a few minutes, and then wipe it off. 
Just like that! No scrubbing required.
It contains no harmful chemicals, and a bottle lasts a good period.
2. Staydry Pellet Bin and Lid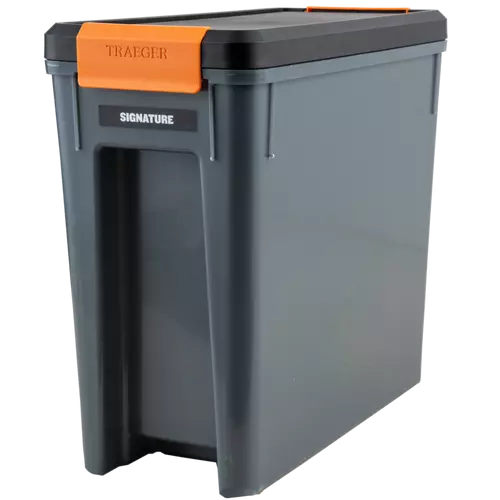 You must have heard that wood pellets work best when they're dry. A little extra moisture can end up changing your required amount of pellets, cooking time, estimated smoke production, etc.
Therefore, it's very necessary to store all your pellets in a dry and airtight container. The Staydry pellet bin and lid fulfills that exact purpose.
We've noticed that it allows you to store 22 pounds of pellets at any time.
3. Pellet Sensor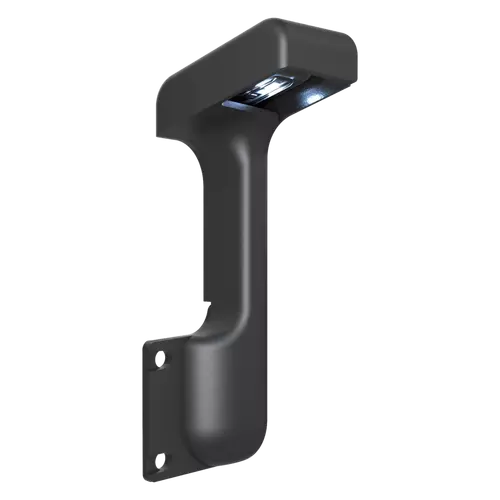 The newer models of Traeger grills already include a built-in sensor. But if yours doesn't, you surely should buy this product!
The pellet sensor allows you to monitor the percentage of pellets present at each period. 
Hence letting you know beforehand when it is time to refill the smoker with pellets.
4. Meat Injector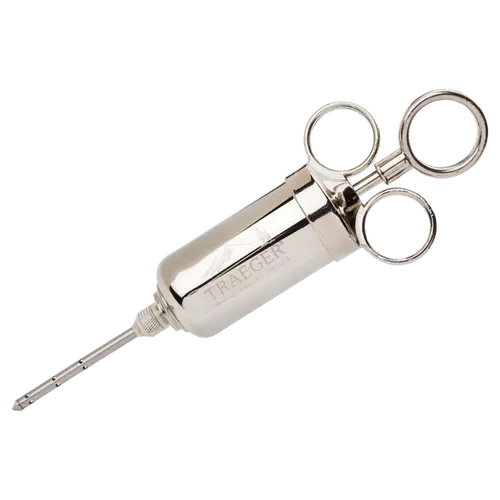 Injecting meat with the right marinade can completely transform the flavors of your meat. It can make it tastier, juicier and more moist than any piece of meat you've had before!
Meat injectors are used for the purpose of injecting any kind of meat with brine, marinade, etc.
5. Magnetic Bamboo Cutting Board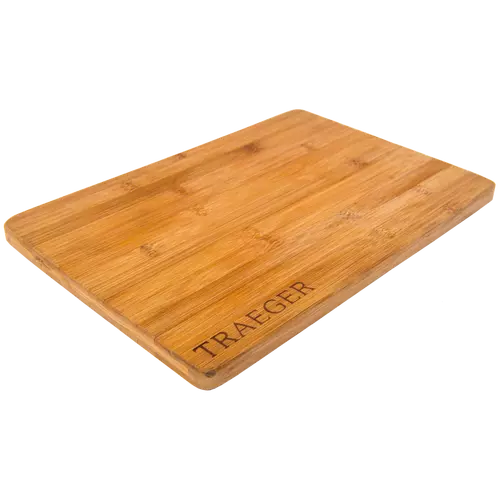 Cutting boards prevent your kitchen's shelves from becoming stained with cutting marks from all the times you slice anything on them.
The Traeger bamboo cutting board is, like all of its other products, made to last forever.
The magnetic quality of this board allows you to place it on your folding shelves without the risk of a lot of movements, let alone falling!
This means you can now cut your meat right on your grill, without damaging it or cutting yourself.
6. Pink BBQ Butcher Paper Roll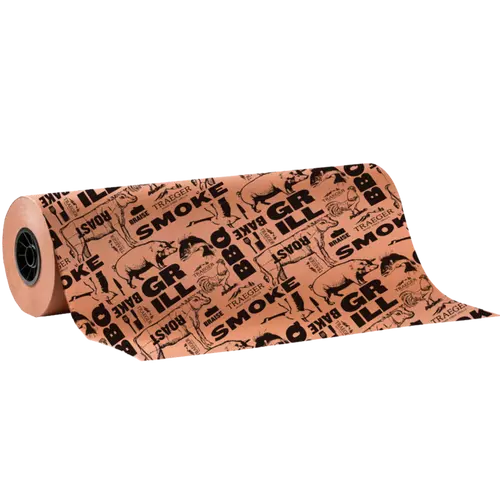 A lot of people use aluminum foil to fold their meat in during the smoking process.
However, the better alternative is to use the FDA approved butcher paper that you can get at Traeger's.
Tried and tested, we can tell you that this butcher paper is the right amount of breathable, allowing you to preserve your meat' juices without making it either soggy or dry.
7. Rib Rack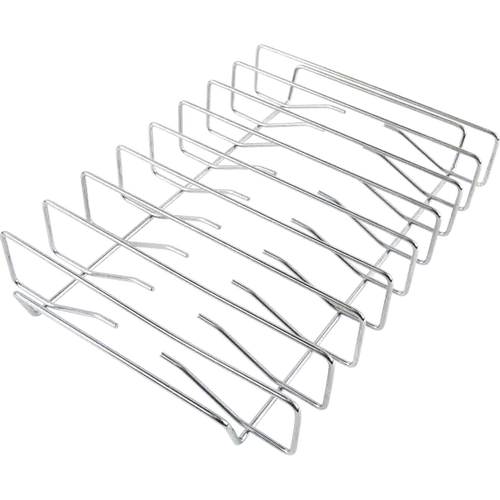 We like to cook huge servings of meat whenever we're at it, and our ribs are no exception.
Rib racks are designed to allow you to cook more ribs at a time than a normal sized grill would let you.
Traeger rib racks are accustomed with their top-notch and unmatched quality.
8. Stainless Grill Basket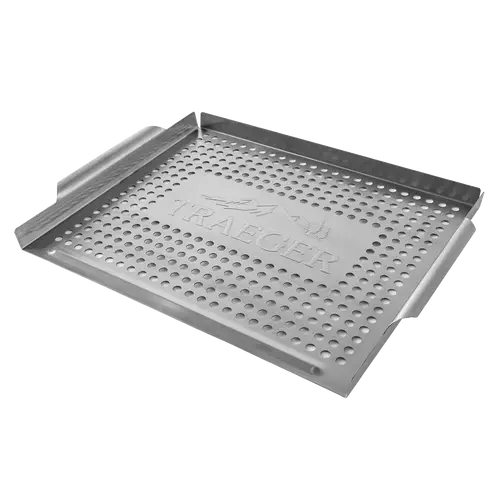 The grill basket seems unnecessary when you are cooking large pieces of meat.
However, when you're making small shrimps, vegetables, asparagus, chipolatas, etc., there's always the risk of them falling down from the space between the grates.
When the stainless grill basket is present below the grates, you can stop caring about this problem as much.
9. BBQ Mitt Brown Canvas and Leather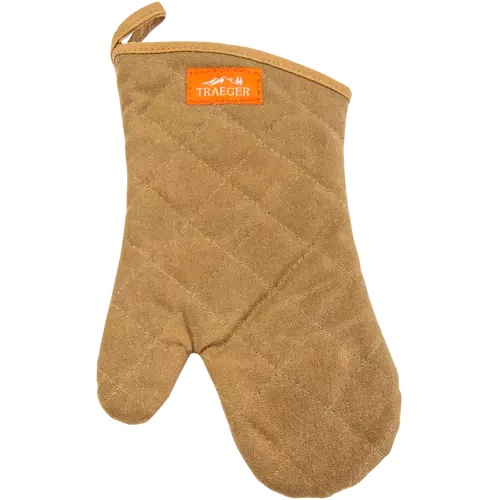 After a few successful smoking sessions, you might think you've become good enough to not take precautions for all the heat you're dealing with.
But that's neither true, nor a smart choice! You always need protection against the piping hot stuff you deal with during smoking. We're still extremely careful about it!
The BBQ mitt brown canvas and leather gloves by Traeger save you from burn scars – whether they're coming from an accidental touch on a hot grate, or unexpectedly hot piece of meat.
10. Insulation Blankets
Most models of Traeger grill have inbuilt insulation that makes smoking in any season easy.
However, for models that don't feature insulation, grilling during harsher and colder weather conditioners can be a bit of a struggle.
Using an insulation blanket for such grills can remove this problem!
11. Wooden Grill Grate Scrape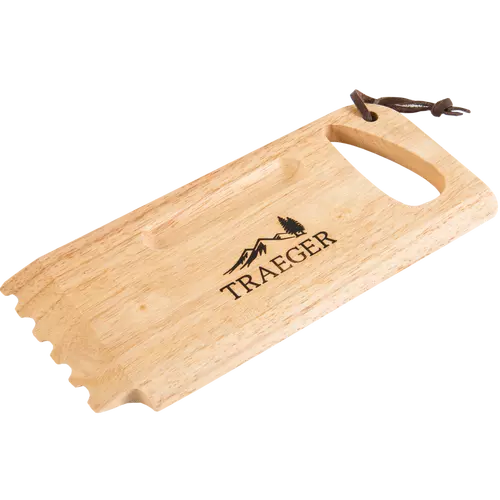 Everyone knows that using wire grate scarpers to clean your grill grates not only damages the grates, but also sometimes leaves metal shards that are not safe around your food!
Therefore, Traeger introduced wooden grill grate scrapes to save you from such hassles. They've become a favorite accessory for us ever since. These are durable, last many years, and don't damage your greatest – ever.
12. High Efficiency Power Inverter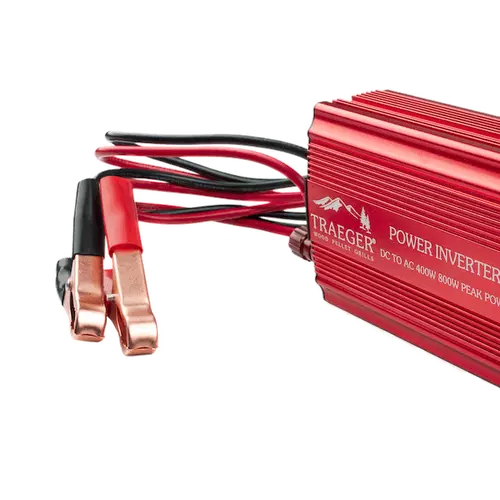 It's everyone's dream to be able to camp and smoke your favorite meat.
This 400-watt power inverted by Traeger makes this dream come true without the chance of a mess up.
You necessarily need these inverters to connect to your batteries during your tailgating adventure. This one has a digital thermostat controller, and even a USB port for your phone, etc.
Wrapping it Up
The list of Traeger accessories might seem a little too much to handle all at once. But the reason why they're called accessories is because you don't necessarily need to purchase them all together!
You should look through everything that could possibly be of help to your smoking process and get your hands on it for your own convenience.
Related Articles: